Rocking life in the front row: Book in the works!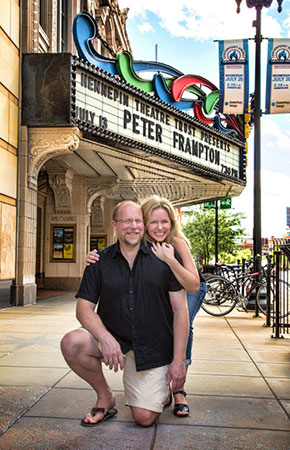 From front-row center seats for the Rolling Stones and The Who, to backstage with Journey and the Steve Miller Band, to a meet & greet in Peter Frampton's hotel room and a personal sound check with Graham Nash, to my full-circle life moment: A slow dance serenade and kiss with Neil Diamond…it's finally time to share my story. In this book, I lay it all out and fully answer the question that plays over and over at parties like a broken record: "How on earth do you do it?"
Introducing an inspirational book about life, which weaves in many of my amazing concert stories and adventures of front-row living with my hubby and fellow lover of life, Bill. We repeatedly score front-row tickets to our favorite shows and always come home with a great story. Our concert experiences have given us solid proof that anything is possible. And contrary to popular belief, it has nothing to do with a secret ticket broker or winning the lottery. Through our mind-blowing stories (and simple how-to model), you will learn how to create – and live in – the front row of your own life. Whether it's a career path you're shooting for, a dream you're aspiring to achieve, or it's specifically front-row to your favorite show.
During the day, I'm the veteran Life Coach, writer, and business owner here at LifeShine®. By night, I'm a concert enthusiast, with over 200 major classic rock shows under my belt – many from the front-row and all with pure passion and joy. Over the years working with hundreds of clients, I've consistently seen people crave more meaning, purpose, and joy in their lives. In this book, I combine my 30+ years of communications and writing skills with my personal development expertise and true love of classic rock and joyful experiences.
In this book, you'll get VIP access to rock out in the front-row to the greatest show currently on tour…your life!
---
Tired of sitting in the upper deck?
It's time to live your life in the front-row, too. While the book is in process, check out my day-time gig as a Life Coach and I'll show you how to score those awesome seats.
---