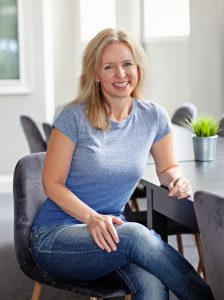 My background
I began my corporate career at a global marketing and hospitality company in the late 90's, and a favorite (but small) part of my Training & Development role was leading Franklin Covey classes for employees. I absolutely LOVED guiding class participants on a journey inward – in the midst of their busy workweek – toward "light bulb moments" as they clarified who they are, what they want, and what matters most to them. During those years, I knew that facilitating these sacred moments was what I was born to do…and I yearned to do it full-time and on my own. I could barely wait to get out into the world and make it happen.
I hired a coach to help me navigate the journey and make that dream a reality, and I had no idea how life-changing it would be to partner with a coach. My experience as a client was incredibly powerful and ended up showing me how becoming a coach, myself, would be the perfect match professionally. I was so eager to impact the lives of others the way my coach was impacting mine. Ultimately, this all tied-in perfectly to the inspiration I received early-on from my grandparents.
So, I went back to school and enrolled as a student at the Coaches Training Institute (with my husband!). Then I launched LifeShine, left the corporate job, and the rest is history.
My belief and passion
I believe we each have a job here on earth: To shine our lights, stand in our greatness, and allow others to benefit from the unique gifts we bring to the world. Therefore, I'm passionate about leading and guiding women to live extraordinary lives and bravely shine their lights. And the bonus? When there's more light in the world, we all benefit.
Reflecting back two decades later, it's been a pure joy to focus on a role that's so congruent and aligned with my true spirit. Through LifeShine, I've taught personal/professional development workshops for organizations, facilitated company off-site events, led women's weekend retreats and a women's small group leadership program, and frequently served as an event speaker. Currently, I coach individual female leaders who want to bring their best selves to the table and show up brighter, stronger, and more alive. It's an honor and a privilege to work with these lovely women, guiding them toward greatness.
After compiling years of research from my work, I created the LifeShine® Positive Change SystemTM – a proven process that guides professional women to take charge of their life, make lasting positive change, and experience greater joy. In coaching, we focus on everything from reducing stress and letting go of old habits, to clarifying values and assessing strengths, to maintaining work/life balance and leading confidently. LifeShine is based on this treasured quote by Howard Thurman: "Don't ask yourself what the world needs; ask yourself what makes you come alive. And then go and do that. Because what the world needs is people who have come alive."
My joy and foundation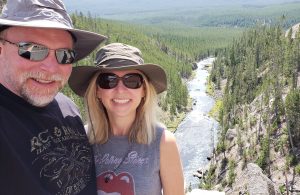 I love and appreciate all of life, being fully present, and embracing and celebrating the things that bring me joy. The canvas on my office wall says: "Do more of what makes you happy."
My greatest joy is sharing life with my husband, best friend, and soulmate (of 30 years!), Bill. We're all about "front-row living", whether that involves a Caribbean cruise, an island vacation, a road trip to explore our beautiful country, or whooping it up in the front-row at a favorite classic rock concert. Check out the front-row book I'm writing that shows how anything is possible…and that you, too, can live in the front-row of your own life. You'll get an all-access pass to our amazing rock & roll adventures and VIP backstage experiences. :)
Aside from all our adventuring, my favorite place in the whole world is home – our cherished retreat – where Bill and I enjoy simple moments together like watching wildlife from our deck, walking the neighborhood trails, or quietly "being" in our meditation room. Because it's so true: The little things really are the big things.
---
Stop living your life by default…and start living by design
Now it's time for YOU to map-out your own beautiful path with the gift of objective coaching and expert guidance to rally you forward.
---
How LifeShine Has Made a Positive Change
"Most important to me in the coaching journey was Michelle's positive attitude and willingness to believe that I could become the best version of myself. And I am well on my way to becoming her! Thank you, Michelle, for being my Coach and for helping me see the goodness and possibilities in me."
Judith Bell
"In looking back, the best part about Michelle as a Coach is that she seriously listens to what I'm saying. She picks up on my emotion and the 'behind the scenes' of what I'm saying."
Katie Jauert
"What I value most about my work with Michelle is that she put the responsibility on me from the get-go. She didn't spoon-feed me anything. She was the consummate professional. Michelle made me feel 'normal' right away. She never judged me, and I felt like I could tell her anything. She gave me positive feedback and spoke to me at my level, always recognizing what makes me tick."
Carol Pitz
"It is immediately clear to me that Michelle is meant to help us to live our 'real lives.' The lives that we have dreamed of, longed for, and strived for. She helps her clients break their goals down into realistic and do-able steps, and then she builds us up so that we have the courage to take the next step to make that dream a reality."
Kelly Leiker
"Being in a coaching relationship with Michelle reminded me of the value of support, encouragement, and partnership. She showed me what it is like to be listened to on a soul level with full attention and no judgment. She never showed up just to do her 'work' during our sessions; in fact, it felt as if she was simply showing up just to support me."
Ashley McDonell