When Covid hit last March, my husband Bill and I were in a world of limbo. We were enthusiastically ready to close on the brand new house we built, which had been a dream of ours for over a decade. Then suddenly and abruptly everything changed.
As the reality of the pandemic unfolded, sheer joy and wonder for us were invaded by anxiety, unknowns, and sadness. The pandemic soon had a grip on the entire world. A myriad of questions raced through my mind: Would banks stay open and allow us to close on our house? Would the movers be able to move us, and could we potentially get sick from them? Would my parents stay healthy? What will happen to my business and income? Will we even be able to keep the house we had worked so hard for? Will we end up getting the virus? 
During those initial days, a lifeline for me was listening to a peaceful meditation each night in bed, narrated by a dear friend. I was working so hard just to calm down my mind, my heart, and my shallow breathing.
My First Reality Check
I was suddenly overcome with a flood of emotions one afternoon, early on in the pandemic, before any of us really knew what was going on. Just then, the phone rang for my 2:00 coaching session. It was my lovely client, Jen – a woman I adore and greatly admire. I started our call the usual way and asked how she was doing. Then she asked about me. And I started sobbing. 
Wow. That was a first for me. I can confidently say that I've never been less than 1000% present for each and every client during coaching sessions throughout the years. But instead, in that particular moment, it felt like I was connecting with Jen woman-to-woman (vs. coach-to-client) in a time of great – and somewhat shared – distress for both of us. My tears were, in part, an acknowledgment of that connection.
Jen and I ended up having a very special exchange (of course I didn't charge her for the session😊), and later that day, she sent an email thanking me for being real. After that experience, something shifted in me – and stayed with me – for the better part of a year.
I recently saw a quote that said: "In 2020, therapists and coaches guided people through: A global pandemic; an economic crisis; a politically polarized election; a racial justice movement; and chronic uncertainty, anxiety, and depression. With no preparation, warning, or special training ALL while they went through the same experiences themselves."
Surrendering to My Feelings and Emotions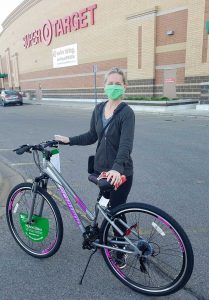 Ask anyone who knows me: I'm a connector, an encourager, an inspirer, and a cheerleader. It's a huge part of my brand and who I am! But with the emotional toll of the pandemic as a backdrop, I witnessed my energy level plummet, and so much of what I'm "known for" took a backseat. 
Earlier this year I wrote a blog post that asked: "When you look back on this unprecedented time in our history, what is the story you want to tell about how you showed up to life?" I thought my story would be that I stepped up to the plate, created all sorts of awesome new programs, and inspired and rallied others from the sidelines as they navigated the pandemic. But the reality? My story instead will be: I spent my time and energy reflecting inward, going slow, and staying present with myself and the sadness I was experiencing. This doesn't mean I dwelled on the hard stuff, but it does mean I was present with it all in order to allow it to move through me.
If I hadn't given myself the time and space to reflect and process, the feelings would still be hanging out there, waiting for me to deal with them. So, this past year I took one day at a time, surrendered to all the feelings, embraced my low-energy and unmotivated state, and adapted accordingly.
Side note: Because coaching is my calling, thankfully it's always been effortless for me to show up fully with clients on every session. Whew! But outside of my work, that's where I haven't had the reserves for much else.
Getting to Know a Different Version of "Me"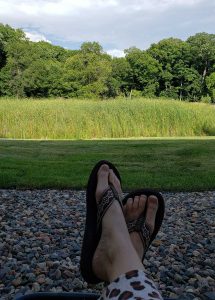 While I normally thrive on getting things done, I had to let go and just sit in the backyard, go for a walk, or take a nap. This required practice and giving myself grace. 
While I normally thrive on connecting with others and asking about their lives, I had to let go and trust that they felt my love from afar (this has been really hard for me). This required me to be okay with not always reaching out to family and friends via phone, email, or Facebook the way I like to. 
While I normally set a standard of excellence for myself in everything I do, I had to let go and let everything be "good enough". This required me to reframe my definition of success. 
While I normally gravitate toward uplifting music, I turned up the volume when a melancholy song would play (for my fellow classic rock lovers, think: Bread 😊). This required me to simply roll with how I was feeling and let it be. 
Ultimately, it was strange to get to know this part of me – and an aspect of life – that was foreign territory.
Seeking Support
In addition to talking with my personal coach about all this, I also worked with a great counselor to sort through my journey and the low-grade situational depression I seemed to be experiencing. We talked a lot about "loss" and I took some time to identify all the losses in my life during the pandemic, big and small. I remember telling her that it felt like "my old life died". I thought her immediate reaction would be to smooth it over and paint a nicer picture. But instead, I'll never forget her blunt response: "Well, that's because it did." 
Whoa. 
Of course, many of the losses I've experienced are temporary. Some things will come back and that feels good, even though I'll be going back different. But, it's true: There's a version of my life that did die and it was powerful to acknowledge that grief. In fact, it was imperative, because it's the only way I can effectively move forward. I often tell my clients that you can't fully leave a place or grieve a loss until you've named it. And naming my grief helped me to clear the path forward to today.
Re-emerging With Gratitude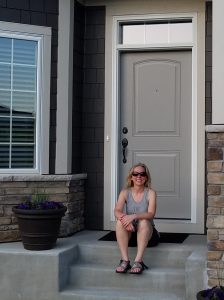 Slowly, I've risen up from the sadness and have begun to recognize those familiar parts of me that are so core to who I am. There's a lot that I've really loved about this past year, too: The calendar is wide open, distractions are minimal, simplicity abounds, I'm more of an introvert than I realized, and it's basically just Bill 'n me hanging out together in our new pad (we've been in our house a full year now, thoroughly loving every aspect of it!). Now that I've allowed myself to "be" this past year, I feel SO much more equipped to turn the page to my next chapter. And I'm transitioning into this new season wiser, stronger, more focused, and more peaceful.
Over the year, I embraced the emotional nurturing I've needed, and I learned an incredible lesson about creating "space" for whatever it is I'm feeling. Even when it's really hard. A big part of my purpose here on earth is to be a ray of sunshine for others. But the only way for me to do that effectively, is to nurture that light within me first. And that has required being true to myself, taking breaks, stepping back, going slow, caring for my soul, and breathing deeply.
One day recently while Bill was grocery shopping and I had the house to myself (which is rare when we're both here 24/7!), I grabbed my phone and found the funkiest songs on my playlist. I connected to our fancy Bose speakers and turned the volume way up so I could feel the bass blast through the house. And I danced. And danced. It had been a long time since I joyfully moved my body like that. In that moment I KNEW that the future held such hope. That there would continue to be incredibly tough times (because that's "life"), but within it, I could shine my light in the best way I know how and move ahead with my purpose of spreading sunshine to others. 
I'm still taking one day at a time. But much of the sadness is in the rear-view mirror, and the dancing (literally and figuratively) is on the upswing. I'm so grateful!
Moral of the Story
My life coaching training almost two decades ago helped me to view each person as "whole". Even for the client who comes to me and feels like she's broken or there's something wrong with her – I never see that. We are each perfect in our imperfection. My professional role is to guide my clients through their journey embracing their wholeness; all of it. 
So, what a gift this past year has been for me to experience the wholeness of the human experience. Days when I could cry easily, days when I felt defeated, days when I felt deep grief. I got to tell myself what I tell my cherished clients: Sit with your emotions, feel whatever you're feeling, and make space for it all. Allow it to move through you. Breathe deeply and be gentle with yourself. Because life is meant to be lived, fully. The world needs you. Take special care of YOU so that the rest of us can bask in your bright light. 
If you could use some assistance in continuing to navigate life, here are some tips that might be helpful.
Wherever YOU are in your journey, I'm cheering you on! 
Wishing you love. Wishing you light. Wishing you peace. ❤
10 house jams from my (mostly 70's) solo pandemic dance party:
[check out these video links for a guaranteed smile!]