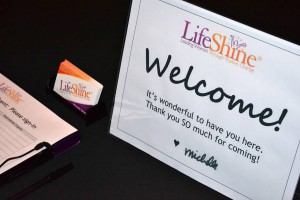 One of the fun perks of being a LifeShine client is exclusive access to a network of over 100 like-minded women. If you're in the Twin Cities, MN area, come to one of our events. Or join our private clients-only Facebook group. Stay inspired. Know that we're all in this together!
Network and connect with other delightful women who are committed to investing in themselves and living a life of purpose. What a joy to be in the midst of such greatness!
Here are a few photos from a sampling of events over the past few years…
---
Rock Your World Retreat, co-sponsored by LifeShine & Liv Lane:
(go here for more info!)
---
'LifeShine Ladies' Events
Our pillars: Celebrate. Connect. Share.
Celebrate life and positive change.
Connect with like-minded women.
Share stories and bring a guest.
"I feel blessed to be a LifeShiner. Honestly it's my first time being a member of a like-minded group where I feel I belong!"
"It was a joyful and enlightening evening with other like-minded and magical LifeShine clients – what a terrific group of inspired women!"
"The happy hour was so energizing for me to be around great women who are living their dreams…and women who are at least 'trying,' like me! I feel like I have an extra kick in my step this morning."
"Last night was so perfect. Refreshing, uplifting, and soul filling!"
"I had a lovely time last night and it truly reinforced in me the power of positive and supportive connections. I forgot how much fun it could be!"
"The event was awesome! I enjoyed connecting with others and I loved hearing the stories clients shared. I left feeling inspired and motivated!"
"I really enjoyed hearing a few client stories presented to the group – I love how they were each so different, yet impactful."
"It was wonderful to see familiar faces and meet new ones. I love going to these events because I am so energized after them – I'm still on a high!"
"I love meeting with like-minded women, personally and professionally. It's a boost for motivation and inspiration, and it simply feels good to connect with others. These events, for me, are a way to practice self-care. I need connection."
"All the women in the LifeShine circle are genuine caring people who are encouraging and fun to be around. Each time, I meet several new women and get helpful advice and encouragement. I enjoy the common ground I have with others in the group!"
"I met a lot of wonderful women who could become lifelong friends, and it's so great to know that others have been in the same, or similar, situation as me."
"It was wonderful to be surrounded by so many amazing women and hear their stories and journeys. Interesting how we all started from a place of knowing that something wasn't quite right…and then we grew to a place of strength and development along the way. We could all relate to each other!"
"What a great event last night. All the LifeShine women are such delightful people to talk with, and everyone has such a positive and inspiring outlook on life."
"What a wonderful event! As the common thread, Michelle is the glue that holds everyone together, and I truly believe that it makes the connecting experience even more enjoyable. I got so much out of the event because I am getting to know people a little more each time. I also love the feeling of support!"